Located 20KM from Nairobi CBD in the Karen suburb, Oloolua Nature Trail is home to the Institute of Primate Research (IPR) and a great destination for nature lovers right within the city. Oloolua is a haven of tranquility when you need some silence, serene ambience and an opportunity to unwind from our usual busy and often hectic daily city lives. It boasts of a majestic 20- foot waterfall along the Mbagathi river that passes within the trail, numerous plant and animal species as well as different species of birds and bees, making it excellent for anyone looking for nature therapy. It also offers a welcome refuge from the scorching sun.
Oloolua Nature Trail can be accessed by public transport from the CBD using both Ngong road and Langata road for Kes. 100 at most. Board bus no. 24 at Kencom plying Langata road and alight at Cemastea at the junction of Bogani road and Karen Road, walk 600 meters down the road on your left to the Trail's main gate. If using Ngong road, take Matatu route 111 at Agro house stage and alight at the Karen Shopping Centre. From Karen you can either take a tuktuk or a matatu for Kes. 50 and ask to be dropped at Cemastea, a motorbike would drop you at the gate but would charge you Kes. 150 from Karen.
Entry Requirements and Processing
It should take you under 10 minutes to check in to Oloolua Nature Trail. No Cash or card payment are viable since the only payment mode accepted is M-Pesa. Once you pay, you will be issued a stamped ticket which you must keep with you during the entirety of your visit. Adults need to carry official identification. Personal details such as name and phone number will also be recorded. Below are the rates:
Kenyan Citizens
Adults Kes.200, Children Kes. 100
Residents
Adults Kes. 400, Children Kes. 200
Non-Residents
Adults Kes. 600, Children Kes. 300
Operating Hours
Oloolua Nature Trail is open every day between 9am and 6pm including weekends and public holidays. You are advised to plan your activities to ensure you are done before the closing time.
Activities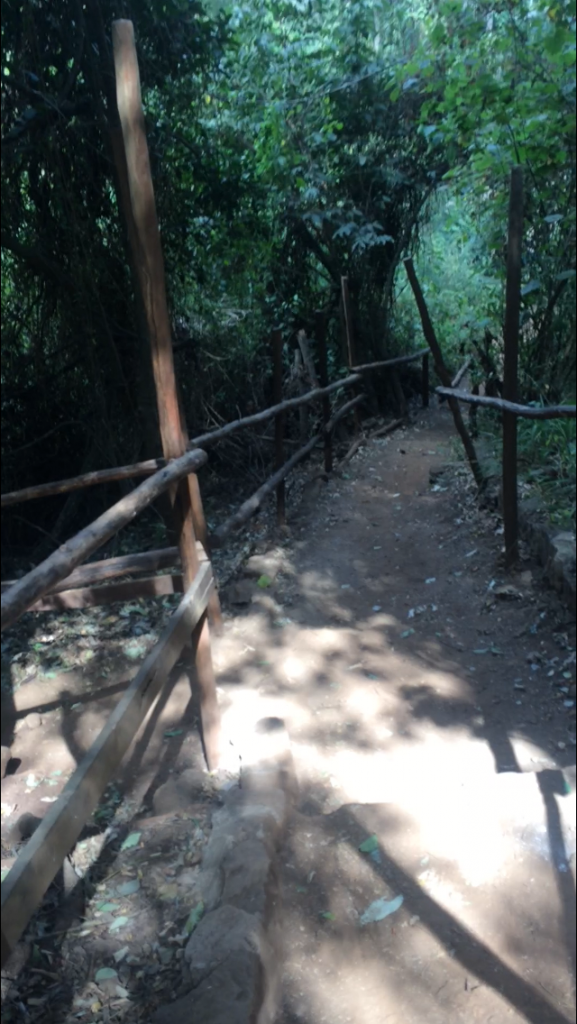 Beyond taking a walk along the trail, jogging and enjoying the roaring waterfall, Oloolua Trail provides ample space and opportunity for an array of numerous other activities as highlighted below:
Camping
Upon prior booking by phone call to the facility, you are required to carry your own tent, sleeping bags and whichever supplies you may need for your overnight stay. The management will provide security, tapped water, toilets and firewood once you pay camping rates. You are allowed to make a bonfire and prepare your own meals.
Picnics and Cookouts
Oloolua is an excellent venue for bonding activities such as picnics and cookouts. You bring your supplies and cook or enjoy pre-packed meals with family and friends while taking in nature and fresh air. There are trash bins provided for any waste generated during your stay.
Photography
The trail is a good spot for photographers of any genre. The beautiful flora and fauna are a gem for any photographer with an eye for it. Video and film making for commercial purposes are charged separately upon approval from management.
Cycling
You can bring your own bicycle and cycle along the trail, however if you do not have a bike, there are bikes available for renting withing the premises.
Pets and Horses
The trail is excellent for pet owners who need to walk their furry companions. As a rule, dogs must always be on a leash during the entire visit to the premises.  All horses and their handlers must follow the designated trail path and must be aware of the welfare of other animals such as the Velvet monkeys who call Oloolua home.  
Events
You are allowed to host corporate events, weddings, birthday parties or church events after making prior arrangements with management. The rates are provided for citizens, residents and non-residents as well.
Reading
Readers who love nature can enjoy a reading session at Oloolua Nature trail. There are numerous clean benches available on the trail, and the silence just makes it so divine. You can choose a cozy corner of the forest and read away.
House Keeping and Rules
No alcohol is allowed
No smoking allowed
Do not litter
Carry your ID
It is also important to note that there are no shops near or within Oloolua trail so you must carry your own snacks and water. Avoid single use plastic and recycle.